DYMAT® PYE MONO L SHR Extra High reflectance
dyMat® PYE MONO L SHR features an extra reflectance and is part of a new generation of monolayer backsheet developed by Coveme to fulfill the request of the market for a low cost and high reflective solution using a different structure. Guaranteed for 2500h of DHT, 72h PCT and over 400 kwh/sqm of UV irradiation resistance, snail trail free, and feature excellent hydrolysis resistance and enhanced adhesion with encapsulants.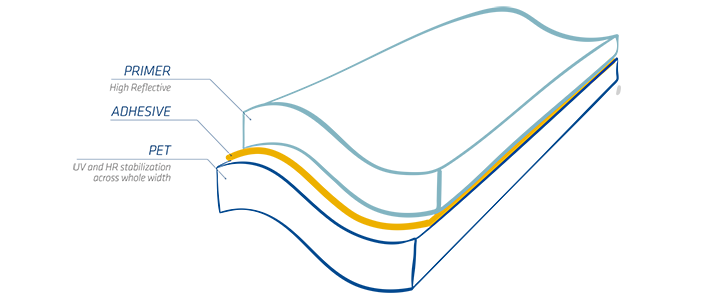 Note:
Other thicknesses on request
Primer colours available: W (white), BK (black) and BL (blue).
Other colours available upon request
Cut sheets (sizes, drills etc.) according to customer's specifications
Shelf life: 2 years
All values stated are to be considered as Typical values.
The above information is liable to change due to innovation and improvement in the manufacturing process. We assume no liability for any infringement of any patent, copyright or design on the part of the customer while exploiting the film for different end-uses.
dyMat® products have UL certificate of compliance .
dymat PYE SPV® has a TUV Partial Discharge certificate.
dyMat PYE SPV® has a TUV Intercert certificate IEC 61215.
dyMat PYE SPV® is JET certified.
The polyester film employed in the manufacturing of dyMat PYE SPV® is completely recyclable.
dyMat PYE SPV® is a Coveme registered trademark.
Coveme is UNI EN ISO 9001-2008 and ISO 14001 certified.