DYMAT® TSL 50-250 1000 VDC
dyMat® Tsl 50/250 is a Tedlar® based backsheet that features excellent resistance to atmospheric agents, a strong barrier to oxygen and humidity, high voltage insulation and long term resistance to the hydrolysis of adhesives. Tedlar® film is available in 38μ thickness and 25μ thickness. Also the inner PET layer is available in several thickness: 125/190/250μ. The thickness of the laminate is designed to guarantee the best combination in terms of electrical insulation and weathering resistance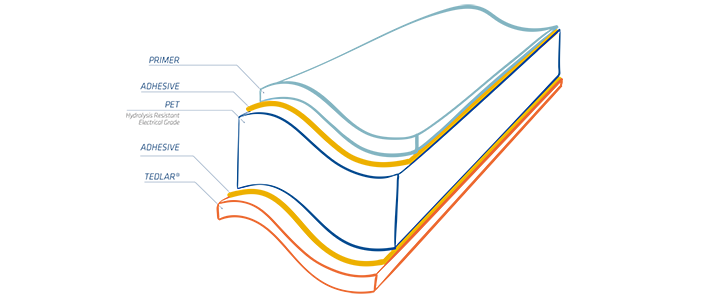 Note:
Tedlar® and primer are available in white, black or transparent colour
Cut sheets (sizes, drills etc.) according to customer's specification
Shelf life: 2 years
All values stated are to be considered as typical values. The above information is liable to change due to innovation and improvement in the manufacturing process. We assume no liability for any infringement of any patent, copyright or design on the part of the customer while exploiting the film for different end-uses.
The polyester film employed in the manufacturing of dyMat® TL - TsL is completely recyclable.
dyMat® TL - TsL is a Coveme registered trademark.
Tedlar® is a DuPont registered trademark.
Coveme is UNI EN ISO 9001-2008 and ISO 14001 certified.