Coveme Today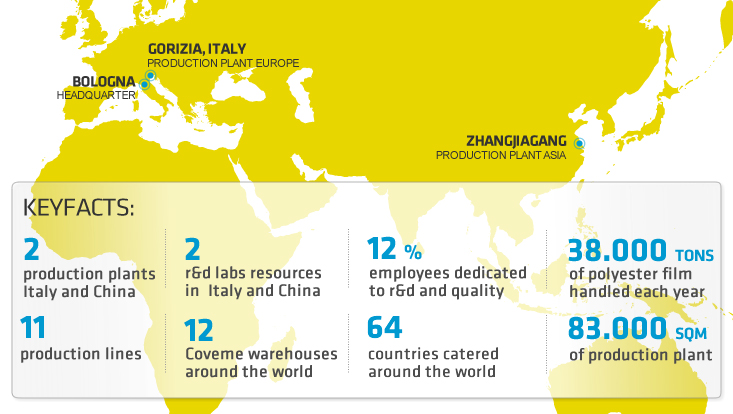 Coveme converts polyester film for various industrial applications such as photovoltaic modules, RFID antennas, biomedical sensor strips, electrical insulation, automotive, screen print and flexible packaging.

Product and process innovation are at the heart of Coveme's activities and fundamentals for the development of new products for highly technological industries of rapid growth and continuous evolution. In this context,

the strong partnerships with our clients and suppliers are of utmost importance and vital for a successful common growth.
Today Coveme has two production sites: the first, built in 1996 in Gorizia, Italy, and the second opened in 2011 in Zhangjiagang, China, around 200km north of Shanghai.

They are the result of Coveme's entrepreneurial mindset, sagaciousness and know-how gained through the years. Our factory in China, being the first of its kind by a European manufacturer, is yet another example for this spirit.
Coveme's core business is positioned within renewable energy industry where solar module manufacturers are the main target of our backsheet films. The company has kept pace with the rapid growth of this industry, and has reached a leading position within very few years.

Our concern for the protection of the environment is reflected not only in what we produce but also how we produce, which means a lean and green production technology and relationship with our partners.
Coveme has commercial and logistic networks all over the world. All our sales managers are responsible for their business 100%, that means they are trained to give our clients highly technical support before and after sales.

The reliability of Coveme, guaranteed by high quality standards and rigorous control, is the promise we keep to our clients.